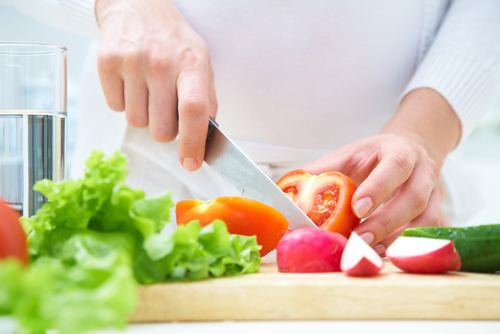 picture by: theculinarycook.com
Knife safety is a major concern for anyone who is in the kitchen, especially children.
In the Kitchens has used a couple of strategies to help kids learn how to cut safely with a knife.
1. We have used a kid friendly plastic serrated knife. They are good for teaching very young kids or very beginning chefs. It mostly tears the food, which gets the job done. Food will not have clean cut lines though. Softer foods such as tomatoes will be difficult to cut.
2. We have also used a cut resistant glove. This gives a barrier of protection between the knife and your skin. However, in our opinion it limits the dexterity needed when cutting.
3. We have also used a regular sharpened knife and provided hand over hand guidance to not only show our students how to cut, but also to protect their fingers.
4. Lastly, we always tell our students to cut a food, so that it has a flat surface. For example an onion. Cut it in half and lay the onion on the flat side. Then begin to slice and dice!
Please let us know if you have any additional questions. Hope that this information is helpful to you and your beginning chef! #knifesafety #inthekitchens #kidscooking
The attached link provides great tips and pictures for keeping any cook safe in the kitchen.
http://www.eatyourbeets.com/kitchen-tips/7-tips-for-teaching-your-kids-how-to-use-a-knife/